How to achieve top 10 ranking by optimizing your web site in 12 steps
This practical hands on guide explains how to optimize web sites to achieve a top 10 ranking, and attract maximum visitor traffic through search engines. Search engines display web pages in response to search terms or keywords submitted to them by web surfers searching for specific information. These potential visitors to your site are either looking for information or looking to buy products and services.
This guide will focus on Search Engine optimization for sites that are in business of selling products and services. However, informational content that is helpful to your web site visitors does become a major aspect in search engine marketing strategy.

For better illustration of these steps we are going to use an on-line car parts website
http://www.thepartsbin.com/ as an example.
1. Website readiness check
Build your website with Static HTML pages and use a search engine friendly link structure.
2. Keyword selection
Select the top 5-10 keywords of each 1 word, 2 word and 3 word long terms by analyzing competitor's web sites.
These are sites you already know by name or you are able to look up their website address by performing a search on a search engine. Key their web address directly into SEO Studio Keyword Analyzer. You'll want to identify the keywords your competition is targeting and get a feel for how good a job your competition is doing in being found on search engines. Export the keywords found on at least ten competitor's web sites to a coma delimited file. Merge these files into one using Microsoft Excel and sort all 1 word, 2 word and 3 word long terms by keyword occurrence and density in descending order.
You should start with at least 15-30 or more potential keywords.
3. Verify your keyword selection
Now do a Google search for a few of the most important keyword terms you are targeting.
I am using the keyword phrase"car parts" in this example. Select the first 4-5 hits and analyze them as with the above. You should see something like this in the Keyword Analyzer for: http://www.thepartsbin.com/
After running the SEO Studio Keyword Analyzer with http://www.thepartsbin.com/ you'll see the following result for the keyword phrase "import car parts":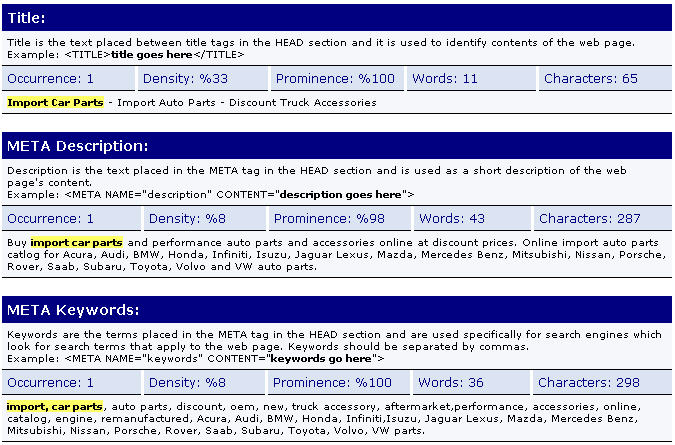 After analyzing some of the invisible web page content such as Meta tags, turn your attention to the visible text content of the web pages. Using the Keyword Analysis tool you get to see what keywords are actually being used in the HTML text and where they are placed thanks to keyword highlighting.
The keyword density is determined by the number of total words not including stop words divided by the number of occurrence of the word for which density is measured. You'll want to optimize your web pages to achieve high density factors for your key terms without sounding too repetitious. There is no hard and fast rule regarding the keyword density but you should target between 4% - 10% for the overall page, and at least double or higher for the Title, Meta, and Heading tags.
As a rule of thumb, try to ensure that there are between 500-600 words on each page. However, if the number of words falls a bit short of or exceeds this limit, don't worry too much. It usually does not make sense to optimize for more than 3-4 keywords phrases per page.
4.Verify what keywords people are searching for
Now that you have a fairly good idea what keywords your competition is using let's verify what terms people are truly searching for. The tools below help us make that determination.
Overture Search Term Suggestion Tool
Open a web browser window and go to the Overture Search Term Suggestion Tool
http://inventory.overture.com/d/searchinventory/suggestion.
The Overture Search Term Suggestion Tool is one of the most powerful tools in any web masters toolbox, and we use it almost on a daily basis. It allows you to find out which keywords people are using in their searches, which as we are sure you will agree is very valuable information!

Once the term suggestion tool window opens, start at the top of your keyword list
that you created earlier and enter each one into the text box and click on the blue
arrow, as shown in figure 1 below:
Figure 1: The Overture Term Suggestion Tool

As you can see, the term suggestion tool returns a list of keywords and how many times they were searched for during the last month.

This report was run on December 19th 2005, so the results are returned from searches in November 2005.

As you type each of your keywords into the text box and see the number of searches, write that number down next to your list of keywords you have saved earlier.

You should now have a list of your top keywords with the number of searches for that keyword from the previous month.
WordTracker
Open a web browser window and go to WordTracker
You can use WordTracker trial version, which is free. We do recommend that you spend the money though and sign up for a one-day full version at $6.73. It's well worth it as it gives you access to data from all of the major search engines. It also gives you far more synonyms and other related keyword suggestions.
With WordTracker you will be looking for keywords that return the highest possible Keyword Effectiveness Index (KEI). The KEI compares the Count result (number of times a keyword has appeared in our data) with the number of competing web pages to pinpoint exactly which keywords are most effective for your campaign. Often these will be keywords that are two to three words long. You'll want to ensure that not only the KEI is high, but that the keyword also shows a high number of people searching for it. At this point however you are still in the discovery phase of the best keywords to target, therefore don't be afraid to target keywords with low KEI figures. It is possible by including low KEI keywords you will discover some very important keywords your competition did not start using yet.

At the end of this exercise you should be able to narrow down your list of 15-30 potential keywords down to your top 6 to 8.
Now that you have used these very effective tools to identify your best keywords you are ready for the next step with the help of the SEO Studio Ranking reporter.
5. Check the ranking of your competitors.
Before you spend considerable time implementing these keywords do one final check to see how your competitors are ranking against these keywords. Select your top 5-6 competitors.
Open the SEO Studio Ranking Reporter Tool

Enter your 5 competitor's domain names

Enter or import from a file the 6 to 8 keywords you selected

Select only the Top 50 Results

Select all search engines or just select the most important ones. Yahoo, MSN, AOL, Google, Netscape, Excite, Overture, and Open Directory

Click Start

You can view the results in the Ranking Results screen or in a browser window that opens automatically, or you can navigate to the Report Manager and open the report displayed at the very top of the list.

You'll be using the Ranking Reporter tool to later monitor your progress in improving your own search engine rankings for the various key words. The SEO Studio Top Ten Spy tool also provides good information on how to improve your rankings by comparing various aspects of your page to that of pages that generally rank well.
6. Start optimizing your web pages
Now that you have verified your keywords you'll need to optimize your pages. Start with keyword optimizing the Title, Meta Description, Meta Keywords, and Heading as we examined above. Then start modifying the text in the body.
The title of your web page (i.e. the text between the <title> and </title> tag in your HTML code) is very important for all search engines but especially for Google. Your page title needs to be brief and targeted, and it should contain no more than 40 characters at maximum. As you will see shortly, the words in the title of your page also need to exist in the body and various headings in the actual content of your HTML page. Each page on your web site should have a different title to that are targeting various word combinations and phrases.
The Meta Description tag is used by many search engines to provide a short description of the page that is listed in the search results. Just like the Title tag it is important that the Meta Description tag be keyword rich as well as attractive to both search engines and web surfers. The rules for the Meta Description are more or less the same as those for the Title tag. However, the content of this tag will generally be longer than that of the Title.
The Meta Keywords tag has become less and less important as far as search engine optimization is concerned. In fact, you can get top rankings without having anything in the Meta Keywords tag at all. However, just to be on the safe side, you would want to include some keywords in the Meta Keywords tag. You should also include some of the common upper/lower case variations of the keyword, along with plural version of some of the keywords. The rules for the Meta Keywords tag are pretty simple - don't repeat any keyword in the Meta Keywords tag more than three times and don't repeat any keyword one after the other.
Heading Tags <h1> and <h2> tags used to emphasize keywords. Heading tags are great way to boost importance of your keywords, they are also given more weight by search engines compared to regularly formatted text or text between bold or strong font tags. Heading tags range from <h1> (bigger text, signifying more importance) to <h2>, <h3>, <h4>, <h5> and <h6> (smaller text, signifying least importance). Headings tags are generally used to emphasize a page or paragraph heading to search engines for importance. You should stick to only <h1> and <h2> tags. Make sure that <h1> headings and subheadings have keyword optimized text. The only draw back of using heading tags is the unappealing look, which can be easily overcome with cascading style sheet formatting.
You want to start out creating your web pages by placing keyword rich content near the top of each page. Since not all search engines read the META description content, the first few lines of text near the top of your web page will become the description of your web pages when displayed in the search engine results. An excellent way to ensure your pages contain keyword rich content at the top of the page is to open your web page in your browser. Go to the Edit menu and choose Select all, then copy and paste the web page content into a plain text editor such as notepad. By examining the first few lines of text you can quickly see how the search engines could display the description of your web page.

You also want to make sure as you sprinkle keywords in the body of the text you maintain readability and proper grammar and sentence structure. This not only this leaves your web page readers with a good impression of your website, but also avoids blatant repetition of keywords which is a sure sign to search engines of spam tactics being utilized on that page. The text of your web site should be reading fluently. It should not end up being a concatenation of keywords. Search engines pay particular attention to headings and proximity of keywords.
Finishing touches.

Try to use keywords in your web pages names.

Add <ALT> tags with keywords to every image.

Link to other pages of your own web site using your top keywords in the link text of every link. Ensure that every internal link has keywords embedded. For example a simple label "Products" might take visitors to the product section of your web site. By labeling it "Car Parts" you've search engine optimized the link.

Examine your web site code and make sure that you get your text as close to the beginning of your page as possible. Your goal is to put keywords towards the very beginning of your web page since search engines give those a much higher relevance.

If you have Java script at the top of your web pages make sure you move them toward the end of your web pages.

Make sure your web site has a site map. A site map is a page that lists all of your pages in a table of content like fashion. You site map should be linked from the home page. The sitemap assists crawlers in finding and indexing every one of your pages.
7. Check for keyword count, density, and prominence
After you've optimized your pages, check each page with the Keyword Analyzer and Top 10 Spy. Ensure that you've achieved the desired concentrations of density, and prominence of keywords in each page compared to your competitors top ranking pages.
8. Feed the search engine spiders your most important keywords
Check what text, and in what order being found by a spider. This will help you pint point where you need to focus on optimizing your web pages. You can use our suggested method of simulating a spider crawling your web page to ensure your pages contain keyword rich content at the top of your optimized web pages. Open your web page in your browser. Go to the Edit menu and choose Select all, then copy and paste the web page content into a plain text editor such as notepad. It is important you chose a plain text editor for this exercise as Microsoft Word or other full featured editors may paste the formatting of the text and images as well from your web page. The first 100-200 words are very important to be well optimized and keyword rich.
9. Submit to all the major search engines using the SEO Studio Submission Tool
Now that the web page is optimized, you'll want to use SEO Studio's Search Engine Submission tool to submit your web pages to all the search engines accepting automatic submissions including Google. In addition you should submit to some of the free but manual submission search engines such as http://www.dmoz.org (Open Directory Project). They take a long time to process, but are free. You may also want to consider some of the pay for inclusion search engines and directories including Yahoo, Inktomi, and Ask Jeeves. Inktomi provides results to several major search engines including MSN, and Hotbot. You should be found there within 72 hours.
10. Start your link building campaign.
The only thing left now if to build links to your web pages. You'll want to try and get links from web sites that themselves enjoy a high ranking. The higher Google Page Rank of a linking site the better. The fewer the links from such high ranking page the better. You'll want these pages to link to you as text. Preferably have them use a keyword and hyperlink the keyword to your site. Google, and other search engines give link popularity a fairly high value.
11. Add lots of quality content your visitors and search engines will both love
Google also seems to consider the size of the entire site. The larger the site the better. In order to get additional opportunity to embed keyword optimized content on sites which are in the business of selling goods and services we suggest that those sites dedicate a fair number of pages to informational content. Possibly do "how to" pages, your company history, shipping and return informational pages, some information about your industry. Special write-ups on some of your key products or manufacturers. All these add relevance to your site.
12. Now you got traffic..who are they... where do they come from?
Monitor your ranking once a week, but most importantly check your web server logs for information on who is visiting your web site, which keywords, and search engines do they use to arrive at your website. You will be surprised by some of the keywords you are being found under on search engines, sometimes keywords you did not initially identify but nonetheless because of other well optimized keywords your pages they are found under related keyword terms. There is a wealth of information buried in your server logs about your visitors and their navigational patterns, you want to identify high and low traffic web pages on your website and a host of other important visitor metrics. For more information visit Google's list of commercial log analysis products. The Google directory category covers most of the popular products that are available.