Step 8 - Article and Directory Submissions
Introduction
Directory submissions have been around since the Yahoo! directory went live in the early 1990's. The crawler based search engines, including Google, Yahoo! and MSN recognize links from top Internet directories. Passing the review process by one of the editors of the top directories signals a stamp of approval and vouches for the site's quality. Getting your site listed in the DMOZ (Open Directory) and the Yahoo! directory is a sure way to gain trust and link popularity. No wonder, web directories and e-zine directories are popping up all over the web trying to make money off the directory and article submissions hype.
In recent years, directory and article submissions have become the new favorite scheme of many unscrupulous webmasters to gain link popularity. The search engines have answered back with an even tighter scrutiny of links coming from new article and junky directory sites. The hardest part of directory and article submission is too weed out the hundreds of low quality directories from the really valuable ones that actually will make a difference in your ranking. With hundreds of low quality directories competing for your submission dollars, it's a really though job to decide where to put your money for maximum ROI.
Here are some of the most important criteria to take into consideration when submitting to directories:
How difficult is it to get a listed? The easier to get listed in the directory the more spammy sites the directory will likely contain. This can affect the "link power" you can gain from getting listed. Getting listed in the DMOZ or Yahoo! directory is tougher for a good reason. The editors are selective about the sites they let into their directory. The higher the barrier to enter a directory, the more valuable your link will become.

What types of sites are listed in the directory? You can get a sense of the sites listed in a directory by visiting MSN.com and entering the command: "linkfromdomain:directory.com." If you see a lot of sites in the search results you would not want to be associated with, don't submit your listing.

What is the age of the directory? The older the directory the better. Newer directories have a very low trust factor on the search engines, and your link on the directory pages may not be given any substantial link reputation.

What is the Google PageRank of the directory? The higher the better obviously, but don't stop at the home page. ook deep in the category pages if the Google PageRank is distributed to all the internal category pages as well.

Are you able to specify your own keywords in the link anchor text? This is probably one of the most important factors in directory submissions. If you can't specify your own anchor text to use in the directory link you may not gain as much keyword relevance from the link.

Are the links in the directory static and passing the Google PageRank and Link Reputation? There are few directories that don't play by the rules and charge a significant amount of money for links that are simply useless because they contain a "nofollow" tag or are JavaScript based.

Do the Title tags of the category pages where your link is placed match closely your websites theme? Take a look at the Title tag of the page where you are considering submitting your site, does the Title contain at least a few of your main target keywords, if not, look elsewhere or suggest a new category.

How many unique inbound links can be found to the directory? The higher number of unique links pointing to the directory the better and the higher your chance of getting a decent amount link reputation out of your submission.

Are you able to add a description to your link? A great description of your site can substantially increase the click through rate of your link in the directory, so aim for a persuasive description emphasizing a few benefits.

Are you able to submit multiple links under one listing? It's a big plus to get few more links from the same directory with different link anchor text, but it's not an absolute necessity.

Are there more than 50 links on a category page? Too many links on a single page dilutes the effectiveness of your own link, so check carefully and demand another page if the directory tries to put your link on a page with too many links.

Are there other directories on the same C Class IP address? A trick from the early days of SEO when webmasters placed several sites on the same server and aggressively interlinked them. This trick is no longer working, so stay away from directories hosted on the same server cluster.

Can you enhance your listing by purchasing category sponsorship? It's nice to sometimes have some control over where your link is placed. With a feature listing you can jump to the top of your selected category.

If you are looking for additional traffic, does the target directory's Alexa rank justify the submission costs? A somewhat reliable traffic measurement tool is the Alexa Traffic Rankings for gauging traffic to any website you don't have direct access to, but still would like to know how popular it is. A web master related site with a ranking around 40 thousand could get about 500 unique visitors a day.
Directory submission preparations
When submitting your link to any directory, you will be asked for some basic information about your site.
As a minimum most directories require the following submission information about your site:
URL — This may be your home page URL, but some directories also allow you to submit your internal pages for deep linking.

Title — This will be the anchor text of the link to your site so choose your keywords carefully and try to minimize the use of stopwords like "in, the, with, etc."

Description — This will be the description below your link. It's important to have some of the keywords from the title of your link present here.

Keywords — This should match closely the META keyword tag content of your home page. Don't use keywords here that are not used on your site.

Category — You will most likely not find an exact category to submit your site to, and the categories vary from directory to directory. In these cases, try to enter a search phrase that matches your website's keyword focus into the directory's search box. In some cases your competitors are already listed in the directory, and you may want to look up the category they are listed in to help you decide on the most appropriate category.
Prepare the content of these submission fields in a text file for easy copy and pasting when it comes time to submit your link to the directories. You should use the same information for the directory submission in as many as 5–6 directories, but after that use different anchor text targeting different URLs for the next 5–6 submissions. Some directories may not allow you to change the URL pointing to your internal pages, but you should try in any case.

It may save you some time to fill out link submission forms automatically with a handy web browser based tool called RoboForm.
A helpful list of general Internet Directories to consider for submission
We have complied a detailed list of top quality Internet directories with their Google Page rank, total number of Google backlinks and finally their Alexa rank to help you gauge the mount of visitor traffic you can expect from these directories.
Our own website is listed in many of these directories, the cost can ran range from free to a few hundred dollars. Trendmetrix also maintains its own internet directory called Root Directory.org.
We suggest you start from the top of this directory list and decide how much you can afford to spend. If you have a small budget you may want to skip over the Yahoo! directory submission as it is nearly $300 per year. You are probably better off spending money on 10 smaller directory submissions from our list.
Niche directories and trade directories
If you have followed our example in the Link Popularity Analysis lesson and used the Links Plus+ tool to find links to your competitors' sites, you may have come across links that are from trade directories or loosely related categories of link pages. These are excellent submission opportunities to get your own site listed in as long as the theme of the directory matches your site's theme. You can use the search engines to find the most appropriate directories for submission.
Try this on Google: "import car parts" + "directory." When the query results show up, there will be a lot of directory sites such as business.com and jayde.com. You can try the same search query with your own keywords and simply add directory to the end of the search phrase.
The manual search can work well, but the fastest way to find these niche directories is to use the Links Plus+ tool's keyword search feature in combination with "Link Suggestion Form Search Terms." The reason this approach works well is because the directory submission pages contain search terms like these: "add a site," "suggest a site," "and submit your site" etc.
Finding web directories where your site should be listed
Using the Links Plus+ tool to find niche and general directories can substantially cut the time needed to locate and submit to these directories. Here is a quick step by step method to get started.
1. Open the Links Plus+ tool and search for directories
Enter the target keywords for your website and select a few "Link Suggestion Form Search Terms." In this example, we have entered the keyword "import car parts" and checkmarked the search modifiers "add a link" and "add a site."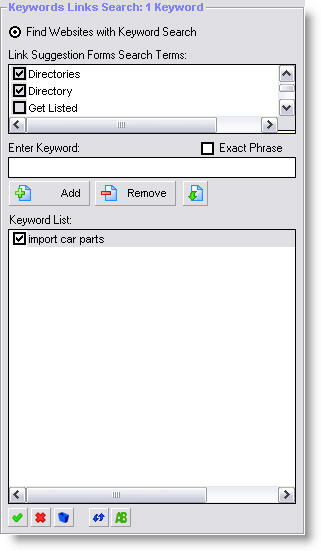 Entering search keywords and selecting link, and directory search modifiers in Links Plus.
Select Google in the search engine list, but you can also select any of the 431 search engines that accept English language search queries in this example.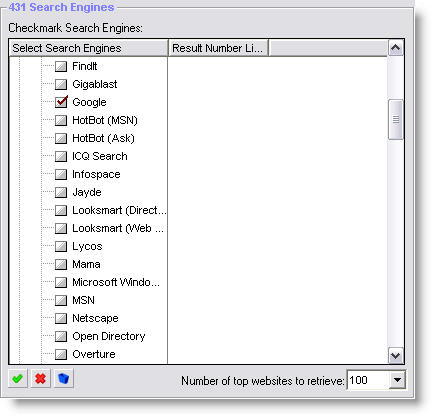 Selecting the search engines for the keyword search in Links Plus.
Open the Advanced window tab and select the link analysis data shown below. Please note, once again we have decided to exclude duplicate links and internal links to clean up the search to speed up the review process.
When you have selected the options below, hit the Start button to begin the keyword search on Google looking for potential directories and link partners that match our example website's keyword theme, in this case "import car parts."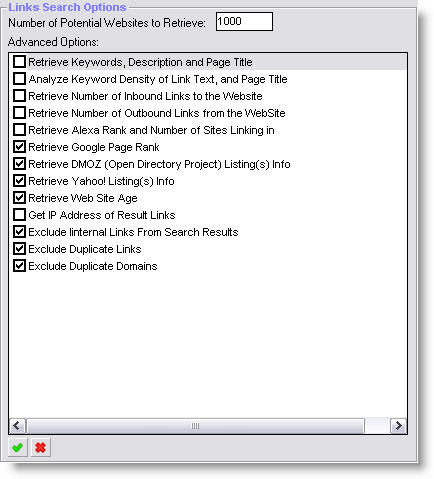 Selecting some advanced options in Links Plus.
When the Links Plus+ tool starts returning the results, you should see a window similar to the one below. Notice most of the links are listed in the DMOZ directory, which is an added benefit of getting listed on these sites if you have a website that's automotive related. You can use similar search techniques with the Links Plus+ tool to find web directories and links that are the most suited to your market segment.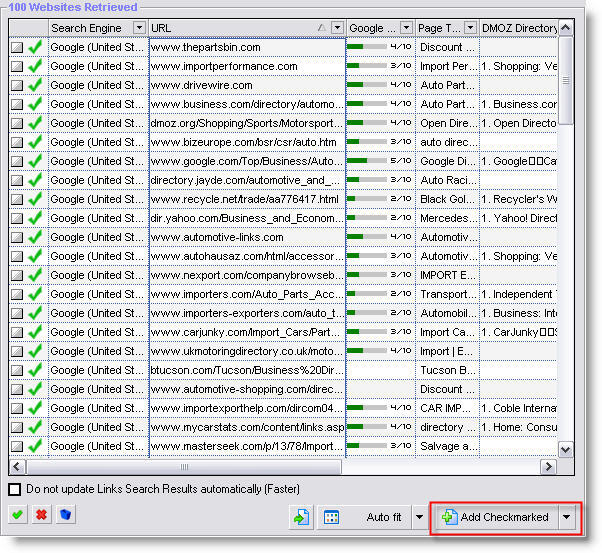 The results returned in Links Plus+ from Google in response to the query "import car parts" + "directory."
2. Submit your link to the selected directories
Now that you have reviewed some of the directories you would like to consider for submission, it's time to transfer them to the Links Campaign Manager by clicking on the "Add Checkmarked" button on the screen above.
Once the transfer of the selected sites is complete, you should see a window similar to the one below in the Links Campaign Manager. We have decided to submit our link to www.theautomotivedirectory.com directory using the Auto Fill function which will automatically insert our website details into the web form. At this point our directory submission is complete, and all we have to do is hit the Submit button on the form.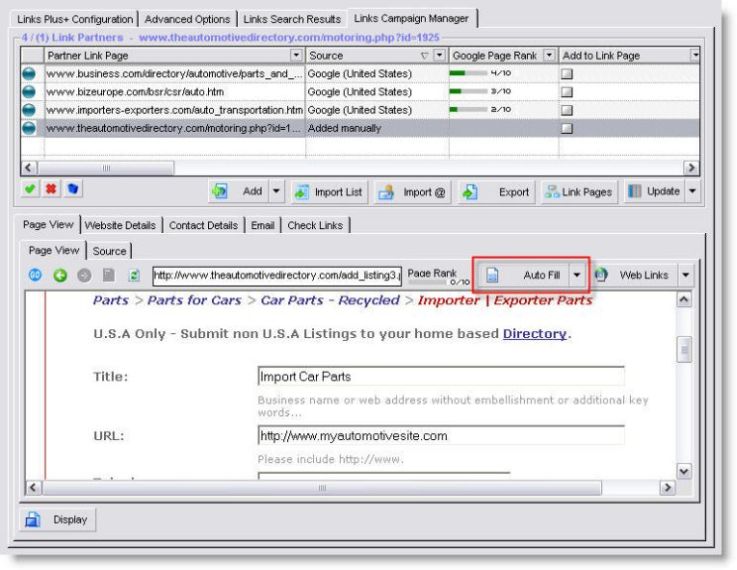 Using the automatic submission form filling function in Links Plus to speed up directory and link partner submissions.
Article submissions
Are you a good writer? Do you know your market segment inside out? If the answer is yes, then nothing should stop you from creating more valuable content for the web, but this time with a twist. Instead of uploading your new web pages to your site, you will submit them as articles to major e-zine sites so they can publish them for you. You may be already wondering why you would want to give away high quality content to "complete strangers" for nothing in return.
Aha, but what if we told you there is something in it for you as well. You get to insert your own "resource box" at the bottom of your articles. What is a "resource box? It's a mini bio of you and a small description of your business with a link back to your site. In many cases, you have complete control over the "anchor" text and the URL you choose to link back to on your site. This is a great way to increase the "deep link ratio" of your link popularity.
Isn't this a good deal? We think so, providing you follow our simple step by step guide on how to write your articles and how to submit them and most importantly where to submit them.
It's a win-win deal for you and the article publishers as well. The article publishing directories need your content for their members to read so they can monetize your articles with advertising space surrounding your articles, and you also gain some direct traffic, but most importantly you increase your site's link popularity. In some cases the search engines may even rank the article at the top of the search results or at least in the top 10 if enough people find it useful. They may even point links to your article.
A well written article is not an infomercial for your website
The writing style for articles is much different from writing website content. The articles that get the most views on e-zine sites are those that help the reader solve problems and provide answers to their questions. Striking the right cord with your readers will make or break your articles. If your article smells like a sales copy, your readers may not even finish the first paragraph.
You have to ensure your article stays on topic without ever talking about your product or services directly. It's not an easy task, but if you want your articles to be approved by the e-zine editors you have to follow their rules. This means no blatant advertising and self promotion allowed.
The structure of your articles
Article writing is not magic, but there are some rules you have to follow to have great success with them, here are the most important ones:
Article Title should be a maximum 110 characters including all spaces and hyphens, which is about 12 words or less. Make the title catchy, but at the same time think of incorporating your keywords into them. This will become the title of the actual page as well where your article is published. Good title tags are intriguing and memorable. Try using these words in your title: "how to," "top 10 reasons," "the truth about…"

Abstract or Summary Description can be a maximum of about 500 characters. There are no hard rules on how many words the abstract should contain, but about 60–70 words should be more than enough. Make the abstract an enticing intro to your article that hooks the publisher and spurs them to read on.

Keywords should be a collection of words that appears in your articles the most frequently. The formatting of the keywords is very similar to the META keywords on your web pages, which are comma separated.

Article Body should be about 600-800 words long, but it depends a great deal on the publishers' requirements. Some publishers want in depth articles of over 2,000 words. You have to experiment with the most suitable article length for your topics, but don't try to box yourself into a specific rule for article length.

Your article should be written with no HTML formatting as most article submission sites may not accept HTML formatted articles. If you have written your articles in Microsoft Word, convert them to plain text prior to submission.

Include your main keywords in your articles similar to the way we have discussed in the Page Optimization lesson.

No advertorials, or blatant self promotion allowed in the article body.

No links in the article body to your own site or affiliate sites, but text links that are not formatted as "live" links may be allowed to resource sites in the body.

Resource Box should contain about 30–40 words. This is where you can talk about yourself and your business preferably in the third person. Provide no more than 2 live links to your site, at least one of them should be formatted with your website address as the anchor text, in case the publisher doesn't allow "live links." A live link is a clickable link and not simply text. Here is an example of a "live link,"s www.mysite.com and this is a non "live link" www.mysite.com.
An example of a good article ready for submission
Here is an example of how to create a framework for a well written article and getting it published. Let's suppose you own a golf training camp for young people, and you want to write a 700 word article that explains the best way to select a golf camp. Your target audience will be most likely the parents of teenagers, so your article must convince them a golf camp is the right choice for their children over a few hours of private lessons.
Your article title will be "Golf Camps—The Right Choice For Your Teen!."

Your article must describe the differences between private golf instructions and golf camps in general.

Your article also must emphasize the benefits of instructors getting to know their students and identifying their personal weaknesses and strengths.

The article also has to address every parent's concern about the safety of the children while away from home.

The article must talk about the organizations that certify golf camps and how the parents should check for references.

A camp should also provide other fun activities for young people to participate in such as water sports, team sports and other types of recreations.

And finally you will create a resource box with two links to our website, one of the links will be the actual URL of the website.
As you can see article writing is not magical, but it must have the right focus while staying clear of promotional language. We can offer you another piece of valuable advice. When you write your articles, speak out loud as you write them. We guarantee your articles will sound more natural and be easier to read.
Submitting your articles
The hardest, and most time consuming part of article distribution is the initial set up of the logins and the actual e-zine directory site selection. Be prepared to spend a minimum of two hours on submitting to about a dozen directories and that's with the use of RoboForm, which helps us automatically fill article submission forms with our article content, resource box, and keywords. Although only about 30–40 article directories out of the close to 500 are worth submitting to, it can be still a challenge to find enough time for article writing and submission.
So, let's start discussing the article directory selection process first. Most of the selection criteria that apply to directories also apply to e-zine sites, so instead of repeating them, please click here to review them. Having said that, there are some subtle differences in how we rate article directories vs. general directories. In the case of article directories, the estimated traffic we may get directly matters a great deal more since we actually want our articles to be found and read by humans as well, not just the search engines. Therefore, the most important submission factor to us, as content providers is the ability to insert live links back to our sites from the e-zine sites.
Comprehensive article directory list
In the past few years we have collected over 400 article directory sites, and we have used the Links Plus+ tool to gather all the necessary data to rank them based on their Google PageRank, Yahoo! link popularity, Alexa ranking, and the article directory's age.
Once again we had to rely on the not so accurate Google PageRank and the somewhat skewed Alexa rankings to get some sense of popularity for a particular article directory. The article directory rankings based on these factors will not be 100% accurate, but it's still a very good gauge for us to consider whether or not we should even bother submitting our articles.
Please visit our comprehensive, 8 page Article Submission and Ezine Directory List on our website. We suggest you take a close look at the top 30–40 article directories on this list. We have had great success submitting articles to these e-zine sites for our own company and our clients.
Conclusion
Directory and article submission are still very effective means of getting new and well established sites promoted. It should be in every web master's web promotional arsenal. However, directory submissions are very tricky as new directories are popping up almost daily and deciding which ones are worthy of your submission dollars is a real challenge. Links from new directories are scrutinized by the search engines and heavily discounted, so submitting to well established older directories is the way to go. With some careful planning and using our checklist in this lesson you should be able to maximize your submission dollars and time spent on directory submission and article publishing projects.
Even if you don't consider yourself a good writer you should research topics well suited for your website's audience and hire a freelance or "ghost" writer to write your articles on your behalf. Here are a few places where you may want to look for hiring article writers: Getafreelancer.com and eLance.com.