Step 1 - Keyword Research
Introduction
What is a keyword? It's simple to explain, but hard for new webmasters to grasp and research. Anything people type into a search engine is a keyword. A search query could be made up of one word or several keyword phrases joined together. Every person uses their own method of searching, and that makes it difficult for the webmaster to find those keywords that will connect their websites with the right visitors. Keyword research starts with the understanding that finding lots of related keywords that deliver targeted traffic is the ultimate goal of any keyword research.
It's no use to send thousands of visitors to a site who will not even wait for the home page to load. That is just wasted effort and doesn't do any good for your business, not to mention all the visitors you disappoint. In essence, we want to find the least competitive keywords with the highest number of searches that are the most relevant to our website.
We are asked this question several times, "Is it better to rank for one very popular search term or attain top ranking for more keywords with less searches. Which is the better route"? This depends entirely on your website's theme and how many different search terms visitors can use to find the same information. Some sites can be described in a query in thousands of different ways, while many others may have less than a dozen well targeted terms that would be best suited.

If you are just starting out, it definitely would be to your advantage to target lower competition terms. Having success with low competition terms will lead to increased confidence to target more competitive terms with higher search volumes. In this lessons we'll also introduce you to a new SEO phrase called "long tail keywords" to target less competitive, but very well targeted keywords for your site.
Thinking like your customers
Thinking like your customers is easier said than done. Part of the problem is actually you, the website owner. You know your business and market too well. The industry jargons and slang are in your every day language. No wonder when you start your keyword research you have a very narrow keyword focus. You become your own worst enemy in exploring other ideas.
Here is an example: when people search for getting their site ranked higher on the search engines, they may look for anything from "web promotion" to "web ranking," or even "web traffic." "SEO software" could be the last thing on their mind, but yet we would bet our business on "SEO software" being the best keyword for our site to target. Here is another example: what is the most popular search term, "cheap flights," "cheap seats," "low fares" or "discount fares"? As you can see it's not that simple to pick the best keywords, is it?
The hardest part of keyword research is to keep an open mind about all possible search methods people might use to look for the same thing. Keyword research is part science, part intuition, and imagination. Since we can't get into the heads of every possible potential visitor to your site who may be interested in your products or services, we have to rely on keyword research tools to tell us what people actually search for and how often. There are a handful of very powerful keyword research tools that are worth using, but the amount of information you can mine from them is mind boggling.
Another great resource for proven keywords is to look at your competitor's website. We are talking about finding the highest ranking competitors on the search engines using your target keywords. Once you find the top 5-10 competitor sites, perform a quick review of their keywords on the web pages. This can be a lengthy and slow process, but luckily the SEO Studio Keyword Analyzer tool can dig up keywords from your competitor's sites in a snap. We'll cover in detail how the Keyword Analyzer can be used to add hundreds of keywords to your keyword research project.
Keyword research is like a job interview process
In order to find the right candidate you may need to interview hundreds of applicants to find the perfect fit for the job. Well, the keyword research process is very similar; you have to cast a wide net first to capture all the possible combinations of keywords known to man. Even then, it's almost guaranteed you will discover new keywords you have missed in the original research only a few weeks earlier. What this tells us is the keyword selection and refinement process never ends, or at least it should not end until you are happy with the number of visitors you are receiving to your site.
Where and how to look for keywords
In order to find the best keywords for our website we need to gather information from a variety of resources. Some of these resources may include:
Brainstorming: Getting your brain to go on a magic carpet ride is one of the best ways to find relevant keywords for your website. Don't just settle for asking the obvious question, what does my website sell? Ask questions such as: "What is this product made up of?" or "Who is using my services?,"or "What problems my products solve?"

Paid keyword research tools: These include Wordtracker, Keyword Discovery, Keywords Analyzer, and Wordze. They give you the crucial keyword popularity data that is necessary for any keyword research. . All of these are very powerful keyword research tools, but they can be very expensive unless you do keyword research for a number of websites and you get paid for the work. We would recommend trying the free editions of the Free Wordtracker, and the Free Keyword Discovery tool before putting some serious money down for their paid editions. If you do decide to sign up for the paid version, you will most likely not need more than a month long membership. Finding the main and secondary keyword phrases should take less than a month for even 2 or 3 websites. This does not mean your keyword research has ended forever, but finding the 4-5 word long secondary key phrases can be done with the free keyword research tools if your budget is tight.

Free keyword research tools: You can gain access to the powerful and free Google external keyword tool to expand your keyword list. Unfortunately the Google external keyword tool only gives a search volume indicator instead of the actual search numbers. Another very valuable feature in Google external keyword tool is the "Site-Related Keywords" finder. By simply entering the website URL of your competitors, you can find out in seconds which keywords they target on their web pages. Another free keyword research tool available without creating an account is the Overture keyword inventory. As of now, August 2007 this tool only shows the January 2007 search volumes as it's being phased out, but Yahoo! is promising a replacement. If you have a Yahoo! Search Marketing account you can still gain access to their keyword tool albeit without the search volume numbers.

Use pay per click (PPC) advertising: This will assist you in finding and selecting the best performing keywords based on the click through rate (CTR) and conversion rates. This is one of the fastest and most effective ways to select relevant keywords since your target audience is already casting their votes in the forms of clicks for your site. Testing new keywords with PPC is a very effective and low cost method to validate new keywords before incorporating them into your web page.

Ask your friends and colleagues: Although you may be the expert in your field and perfectly capable of describing your products and services, you may also have a narrow focus when it comes to selecting the best keywords for your website. People who know much less about your business can give you important clues as to how they would look for your products or services.

Related search terms suggestion tools: One of the fastest ways you can find hundreds of related keywords is to use online lexical or thesaurus tools. Creating a large initial keyword list that includes a large number of synonyms and acronyms is essential to effective keyword research. Discovering related phrases that are not simply stemming from the original keyword term is a cornerstone of semantic latent indexing. Semantic indexing can be described as the grouping of related documents based on not only direct relationship between words, but the meaning of the words as well. For example a computer shopper typing "apple" into the Google search box expects to see Apple computer in the results, but someone interested in finding information on the fruit apple, expects to find information on different varieties of apples and apple growers. It's the semantic latent indexing that helps connect documents to the correct meaning of the search results and it's believed to be widely used by Google.

Some of the search engines provide a related search command list in their search results. Try Clusty by entering a search command and take a look at the "clusters" side bar. You can get dozens of ideas from the keyword clusters by playing with different combination of keywords. You can also visit Technorati a well known blog aggregator and social media tagging site to help unlocked your brain and generate new keywords. Enter a search term and observe the "Related tags" section directly under the search results.

Visitor statistic reports: These can be generated from web server log files or from script based visitor statistic programs. This can help you uncover new keywords for your website by discovering what the visitors are typing into the search engines to find your websites. In some cases, you'll find keywords you didn't expect to come up for in the search results. You should further research those keywords and uncover new keyword niches.

Regional keywords and dialects: This can increase your website relevancy to visitors by using keywords as geographical filters. There can be variations of keywords from country to county even in the English speaking world. For example, in North America, we may use the term "search engine optimization" but in the UK and Australia most web searchers will be using "search engine optmisation"

Misspellings, hyphenated and plural: These keywords can give you a multitude of additional keywords to target. Search engines can suggest the correctly spelled or hyphenated keywords in response to your query request, but they can not change what people actually search for. For this reason, focusing on even a few misspelled keywords or plural keyword variations can bring a few hundred extra visitors to your website every month.

Site search engines: This can be a great source of new keywords and a potential data mining source. As well as further analysis of the average number of keywords, keyword length and other important keyword metrics.

Spy on top ranking competitors: These websites are already well optimized and contain keyword rich web pages. Why not leverage their efforts and harvest the best keywords for your own website? With the help of the SEO Studio keyword analyzer you can extract hundreds of keywords from their META keywords and HTML page content in seconds. There are two other very powerful free online tools available to dig up the keywords used by your competitors. The first one is SEOdigger.com. A great tool that lets you enter your competitors' URLs and within seconds you'll have hundreds of keywords in front of you with sortable Wordtracker and Overture keyword popularity data. The other competition spying tool is Spyfu.com, which helps to identify PPC competitors and the keyword they use to advertise. SpyFu tells you which keywords each website buys and you can even track it to the individual pages.
A few examples of good keywords selection practices
Selecting the best keyword takes experience and little know how, but it's always helpful to see how the pros do it, so here are few basic steps for keyword selection.
Using your favorite keyword research tool Wordtracker, Keyword Discovery or the Keywords Analyzer, type in the main keyword phrase. Start with the broadest possible search terms, this way there is less chance of missing keywords that might otherwise be overlooked.

Look for 2-4 word key phrases that have at least a daily search volume of 200 or more. Since the top 3 sites will receive 60%-80% of all searches, it follows you can expect at least 120 or more unique visitors for those keywords phrases. In some cases, you may want to lower the minimum search volume threshold to as low as 50 if the search term is well targeted for your business.

At this point you should have at least 20-30 really good secondary keywords in your basket.

Hopefully most of the keywords you have selected will have little competition. Some of the keyword tools we have recommended will also tell you the amount of competition for each keyword, but you can also verify these numbers manually by typing the search terms into the search engines with quotes.

It's very important that you use quotes around the keywords to let the engines know you are looking for an exact match. The rule of thumb we use to assess keyword competitiveness is around "100,000" websites. Anything above a hundred thousand results is fairly competitive and requires a fair amount of optimization and link building.



The Google search results for the exact keyword phrase "second mortgage" over 1 million results reported
Grouping keywords
Managing and optimizing a large number of keywords can be a daunting challenge and it requires grouping for logical mapping to specific web pages once our initial keyword research is completed.
Every website has at least 5-10 "main keywords" which can answer this question: "What is this website about?" The rest of the keywords are called secondary keyword and will be some variation of those main keywords whether lexically related or directly stemmed from the main keywords.
Types of keywords:
Main keywords: These are usually one-two words in length, and all the other keywords either stem from them directly or are lexically related phrases, misspelled, or plural forms. A few examples of main keywords phrases are: "loan,""real estate,""lawyer," "DVD,""cell phone" etc. Although trying to get high ranking for these terms would be a futile attempt, nonetheless they are still required to be inserted into a website's title, body text and many other potential HTML tags for effective optimization.

Secondary keywords: These are the keyword we really try to get top ranking for on the search engines; therefore, they require the most amount of research and filtering. The secondary search phrases are either stemming from the main terms or semantically related in singular and plural forms. The secondary phrases are usually 2-3 words in length, but they can be as long as 6 words in some cases. A few good examples of secondary keyword phrases are: "home equity loans," "low down payment loan mobile home," "best refinance home mortgage loan rate," "prepaid us sim cards," "international sim cards."
Every website needs a keyword theme
When we think of a keyword theme, we should think of our target audience. We should clearly define their needs. This will help us come up with a much better keyword theme, rather than if we simply took paper and pencil and started to write down random keyword phrases.
Let's try this with a practical example. We are trying to establish a keyword theme for a website selling furniture with a location in New Jersey. Since this company sells a large variety of different furniture from living room sets to dining room furniture we need to come up with an overall theme and specific keyword segments as well.
Who is the target audience?

What products or services do we offer to satisfy their needs?

What are the most relevant target keyword phrases?

kitchen furniture buyers

kitchen table, kitchen chairs, kitchen accessories, dining room sets

new jersey kitchen furniture, new jersey kitchen tables,
new jersey kitchen chairs,
new jersey dining room furniture

office furniture buyers

office desks, office chairs, computer desks

new jersey office desks,
new jersey office chairs,
new jersey computer desks

living room furniture buyers

sofas, couches, recliners, loveseats

new jersey living room furniture,
new jersey sofas,
new jersey couches,
new jersey loveseats
Creating a keyword themed website with keyword mapping
One of the greatest misconceptions about keywords is their relation to the pages where they will be inserted. The most common question from new web masters is: "Do I optimize my home page for 20-30 keywords?" The answer is no. Too many keywords on the same page would dilute the focus and effectiveness of all keywords on the target page. he search engines will give a higher ranking to those sites and pages that are the closest related to the user's query. In addition, you will learn in the lesson Page Optimization, the Title tag is limited in size and it's physically impossible to fit 20 keywords into the 60 to 70 character limit.
Unless you have a one page website, which we don't recommend, you need to target 3-4 keywords per individual page. The home page should target the most popular key phrases, while the sub pages should target the less competitive secondary keywords. Let's use our fictional New Jersey furniture company again to demonstrate. The home page will be optimized for the keyword term "New Jersey Furniture" and a few other closely related main phrases. The rest of the pages will be broken down into categories of different furniture types, like office furniture, kitchen furniture, and living room furniture.
For those of you who would like to see how this website would be visually laid out after the optimization of specific pages, please take a look at the illustration below. The important principle to remember in organizing a site topically is to start with an in-depth look at your target audience and create your keyword list based on their needs and your product offerings emphasizing its benefits.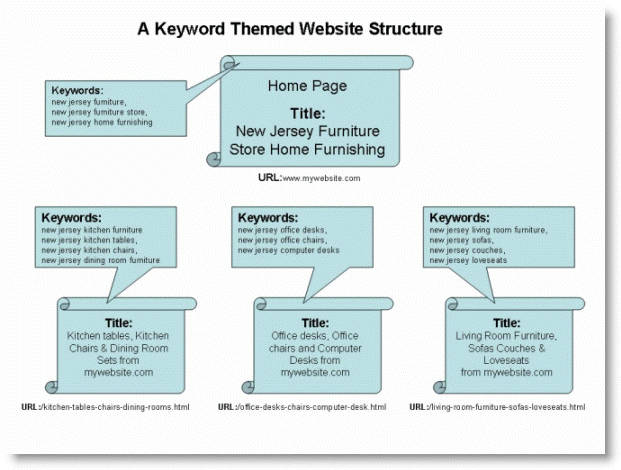 Keyword optimization based on website theme "furniture"
Long tail keywords
If you had your choice of visitor traffic originating from the search engines, which scenario would your choose?
One thousand visitors from one keyword?

or

One thousands visitors from one thousand keywords?

If you can't easily decide, you are not alone. The SEO community seems to be split on this issues as well. It's hard to decide, given the fact that targeting a few very popular keywords could bring to your site thousands of visitors a day, but at the same time you would be facing some very stiff competition. The more popular a keyword phrase is, the more optimization and link building effort is needed to achieve top ranking. So there is a trade off between choosing less competitive phrases with lower traffic vs. more popular keywords with higher difficulty levels to attain top ranking.
Some SEOs prefer to target a few very popular keywords to get the greatest bulk of their traffic while others prefer to focus on many low competition keywords for an almost guaranteed top ranking. Also most SEOs recommend webmasters new to search engine optimization to target Long Tail keywords because it's easier to rank well in a short period of time.
So lets examine first what the Long Tail keyword phrases are all about and how they can drive targeted visitors to your site. Webmasters with a single focus on a dozen popular keywords may miss a very big chuck of traffic from obscure low competition phrases. The Long Tail keywords may be only searched a few times a month, but given a few hundred of these keywords, they can deliver a decent amount of highly targeted traffic. The main advantage of Long Tail keywords is that it's very easy to attain high ranking for them. When you are just starting out it can be a great confidence booster to see the first few visitors trickle in from the search engines using Long Tail keywords.
The Long Tail phrases have a very tight focus, which makes them more targeted than highly popular broad keyword phrases and usually convert better. For example the keyword "golf shoes" might bring in thousands of visitors a day to a website specializing in golf shoes, but if someone searching for a specific brand and model like "men's air accel classic golf shoes" there is a higher chance of sale resulting from the search.
How do you discover Long Tail keyword phrases for your own site?
Most of the mainstream keyword research tools such as the free Google external keyword tool, Wordtracker, Keyword Discovery, Keywords Analyzer, and Wordze are a good place to start, but you also have to find some other not so obvious ways to search for Long Tail keywords. The SEOdigger.com keyword spying tool is definitely a must have tool. You can also try Google suggest. This free Google tool tries to guess what your searching for and gives you suggestions in the form of an auto-complete search box.
Another great way to discover Long Tail keywords is to collect site search query data directly from your visitors. A site search tool consists of a web form and a small database of all the site URLs and their content. When the user types a query into the search box the program saves the query in the database. This is a true gold mine of Long Tail keyword phrases coming directly from your website visitors. We have been using the Zoom Site Indexer, a very inexpensive MS Windows based site indexing and search tool on our own site and several SEO client sites, it works really well.
Conclusion
Selecting the best search terms is the first and most important step in optimizing your website. The keyword selection process could be defined as the art of expanding and the science of narrowing your keyword list down to the most relevant keyword terms that bring targeted visitors to your site. If you want to grow the number of visitors to your site month after month, you need to continue searching for new keywords within your website's topic relentlessly. Once you have exhausted the conventional keyword research tools and ideas online, start looking at magazines, newspapers, trade publications, consumer advocacy publications and even your junk mail folder.